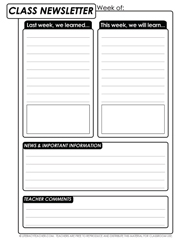 Literacy Skill Focus: Writing across the curriculum, Summarizing
Grade Level(s): Kindergarten, 1st, 2nd, 3rd, 4th, 5th, 6th, 7th, 8th Grades
Subject(s): ALL
This classroom newsletter template can be used in any classroom, no matter what subject you teach– Reading, Language Arts, Math, Science, Social Studies, or even extra-curricular subjects such as Art or PE. It can also be used at all grade levels.
This newsletter is a great way to incorporate writing across the curriculum, parent contact/involvement, and a review of what was learned in your classroom all in one place. This student-centered activity helps students put learning in their own words, similar to a learning response journal.
Leave a Comment on "FREE Classroom Newsletter Template for All Grades and Subjects"